The History of Glen Davis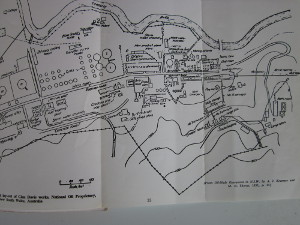 Glen Davis is an old shale-mining town on the Capertee River, 35 km east of Capertee on the eastern rim of the Capertee Valley.
The first mining tunnel, established in 1881, later became the basis of the major mining enterprise which opened in 1938. A town of some 2500 people developed around the mine, which was named Glen Davis after the Davis Gelatine interests who headed the mining consortium (for further information see The Glen Davis Story by GJ Taylor).
The operation closed down in 1952 due to high costs and the increasingly small output, leaving what remains today – crumbling furnace ruins, retorts and collapsed shafts covered in vegetation and surrounded by steep sandstone cliffs and a profuse array of bird & wild life.